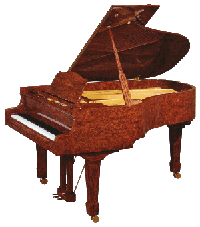 New Piano Finishes: Most new pianos are made with a polyester high gloss finish. If you have one of these, I can recommend some products to help keep the finish looking like new.
What Do I Need? Since the finish is basically a plastic resin, any product that is intended for plastic will work well. I recommend products made by Meguiar's Mirror Glaze, available from Kragen Auto Stores and other automotive and boat stores. #10, #17 and #18 are good products. You may find other products for plexiglas or lexan, which are suitable also. Gel Gloss, available in drug stores and supermarkets for use in fiberglass shower stalls, is also a possibility.
What to Avoid: What you should NOT USE: Any "Bon Ami", "Ajax" or other cleanser, Windex, Lemon Oil, Furniture Polish, solvents, cleaning solutions, and other cleaners that leave a residue on the surface.
Cleaning Cloths: Use only 100% cotton cloths to apply and remove excess polish from the surface, like a diaper, terrycloth, flannel or other soft cloth. Synthetic fibers may leave micro scratches on the surface.
Protect the Surface: Be careful not to place any object on the piano without some kind of padding or felt underneath to protect the finish. The high gloss finish is very soft, and will scratch easily. The finish is very durable, but if impacted it will shatter.
Polishing and Repairs: Repair of the polyester finish is possible only by a specialist in this type of repair. I specialize in buffing and repairing polyester finishes.